Really, I can't!
I soooooooooo need to be doing some color touch up on my hair right now, right now, but instead, I'ma post me a blog! (Maybe two!)


So lately, I have been on this Plush, Softie, Paper, anything Doll kick. I have been having so much fun experimenting. I joined a few swaps to challenge myself to try different mediums. Yes, I can do more than Frida, Guadalupe and Dia De Los Muertos! hee.

So I thought I would share my latest creations with you. I am trying to work my way up to sculpting fabric doll faces, and lets just say, I am a work in progress. I have already tossed out three, but I am determined!

This first doll I made a couple of weeks ago for a Goddess Swap. I found that usually the bodies are well rounded and curvy. Of course I had to take it to the next level, because, well, that is what I do!


In case you need a closer view.......................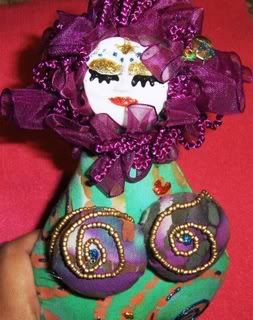 What can I say, I am a breast girl! (I wish I had em too)


Moving on....................
These two, I just finished last night

This first one is for a Dotee Doll Swap. If you are familiar with Swap-bot, there are tons and tons of Dotee Swaps. This one was for beginners and I thought I would put my own spin on her. Typically the faces all look pretty similar. Embroidered with the eyes shut and lashes, But, Noooooooo, I found some fabric, rubber stamped an image and then embossed and painted it. Then I sewed it on. I made a crown out of buttons, and it just reminded me of a Hula dancer, so I gave her a skirt to go with it.
Viola.............



My next doll was a first for me as well. It was for an Icicle Doll Swap with a spring theme. The shape is wide at the top and gets narrow at the bottom, (like an icicle) You can make these anyway you want. I made a clay face out of polymer clay, gave her gold mane and made her a beaded tassle and added a crystal at the bottom.

I also sprayed my dolls with liquid Smudge. (Sacred Sage) I bought at a Holistic Fair. It smells so wonderful and it is used for clarity, cleansing and protection.

I use this on everything and I love the way it smells!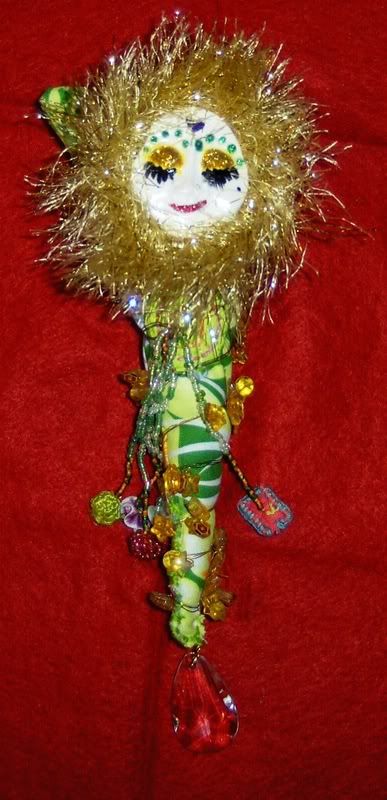 I have another doll in the making, and I am working on a few other projects!
Stay tuned and thanks for stopping by.

PS. The countdown has begun. I leave Monday for the CRAFTY CHICA cruise! Can I get an high 5?