For real, I still am spinning from excitement!

So I walk in the front door with my bags, folders, purse and Lappy, like I always do, and I spy several packages on the table for me.
This is always nice.

After I change and figure out what is for dinner, I start with the smallest. To my pleasant surprise, I find an order I placed on Etsy last week. I was blown away at the quality and generosity of this seller! I ordered two of her Calavera patches, that by the way are at obscenely low prices. One is about 9 inches (huge) and the other is about 4 inches. On top of the of all that, she throws in a free patch with my name on it with a lovely letter! How bad ass is that?

Here feast your eyes!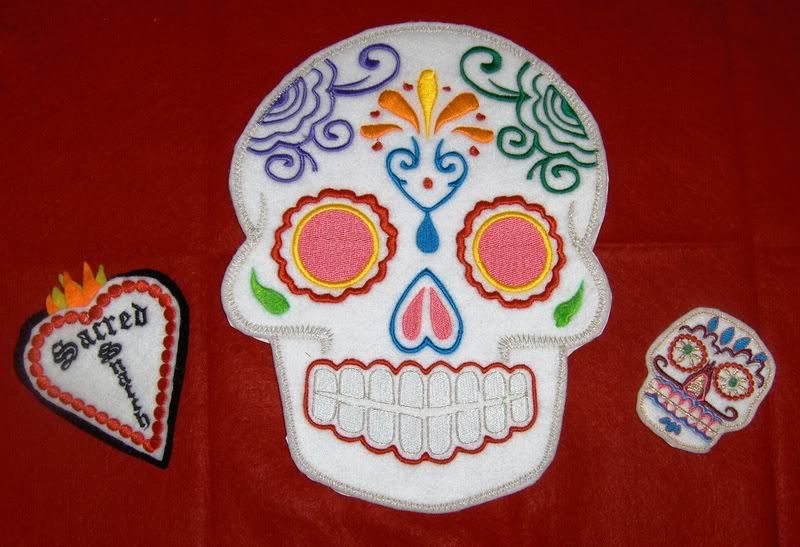 Close up of my custom name badge patch.



Here is a close up of her smaller patch.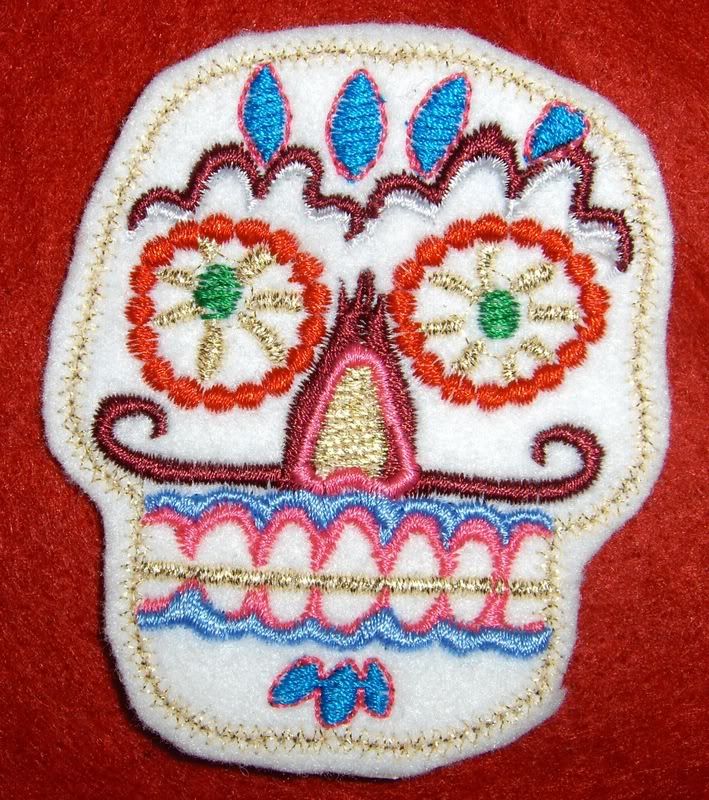 I love them! here is a link to her Etsy store. She rawks and please tell her Snatchy sent you. She said she will do custom order work too!

On to package number 2................
A big box from Amazon!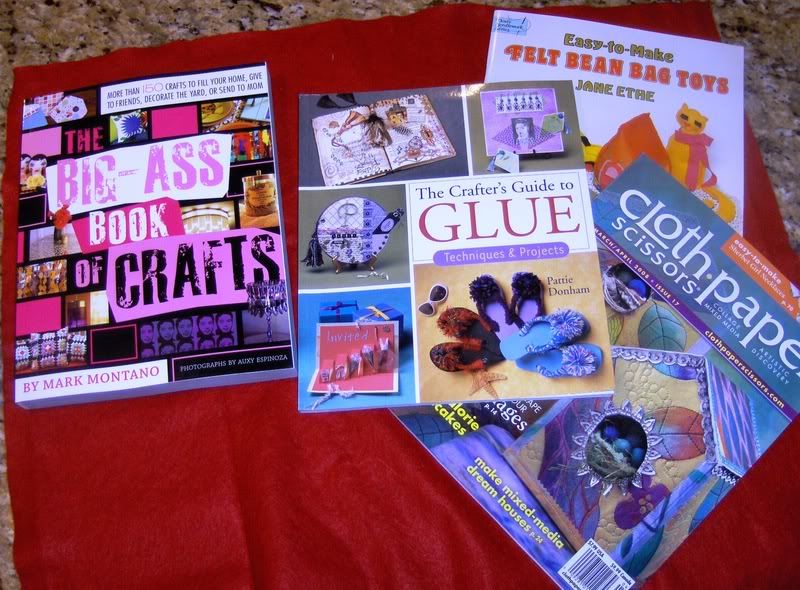 All the books are muey Fabuloso, and Mark of the Big Ass Craft book and Patti Wackof the Crafters guide to glue, are both homies of mine here on myspace and they are both super sweethearts. Both books rawk and have awesome crafts! Both are worth the buy. Trust me, I am super picky about the books I endorse and purchase! When I get a chance I will make some of the featured crafts and post them. Everything from functional to Kitchy to Kiddy!

One more package! ::Drum Roll Please::............................................
It's the Sacred Handbag Round Robin! This started back in August of last year, and made it across the country and back! Although I have it back in my hands, two artists that are from Sacramento still have to add their signature. The list of Artists is amazing! All of them posted little notes of how this challenge touched their lives and or shared how Diabetes affected a loved one.
Lots and lots of swag was included! I am truly blown away at everyone's creativity and generosity. I am actually levitating over here.
I am posting some teaser pics, but believe me, the pictures to not do it's justice and when I get back from my cruise, I will start the PR train so that we can put this baby up for auction and raise those funds for the Diabetes Foundation.

I hope I can count on all of you to help Pimp out this bag and cause. Any suggestions and tips will be appreciated. Also, it you want to donate any swag, please email me. I will make sure everyone gets credit and thanks again for making this mistake into a miracle!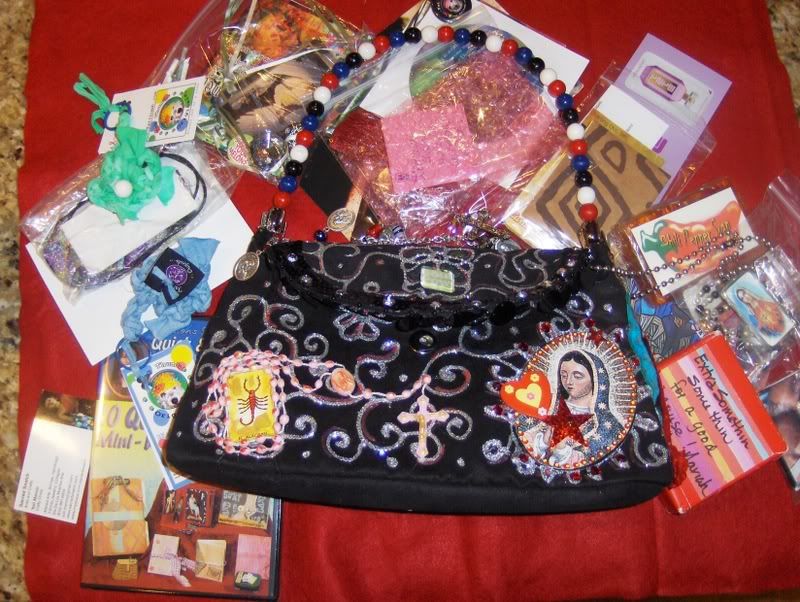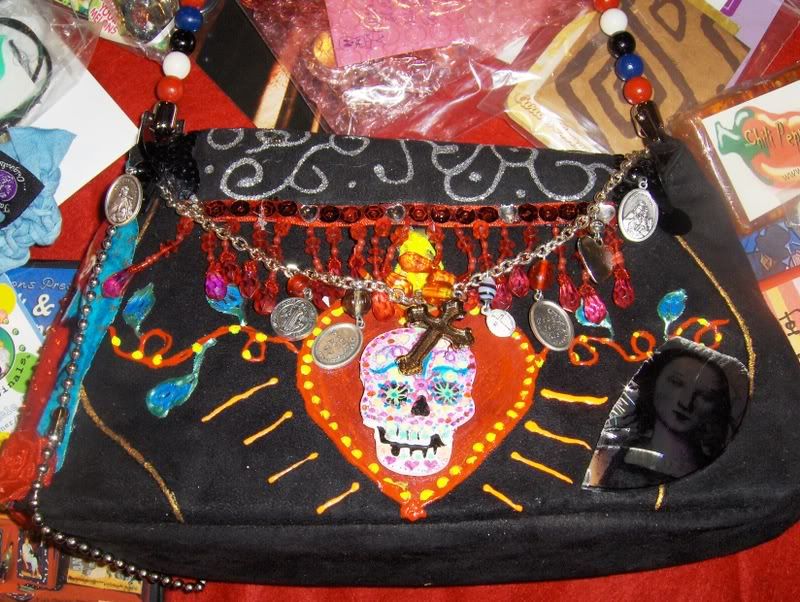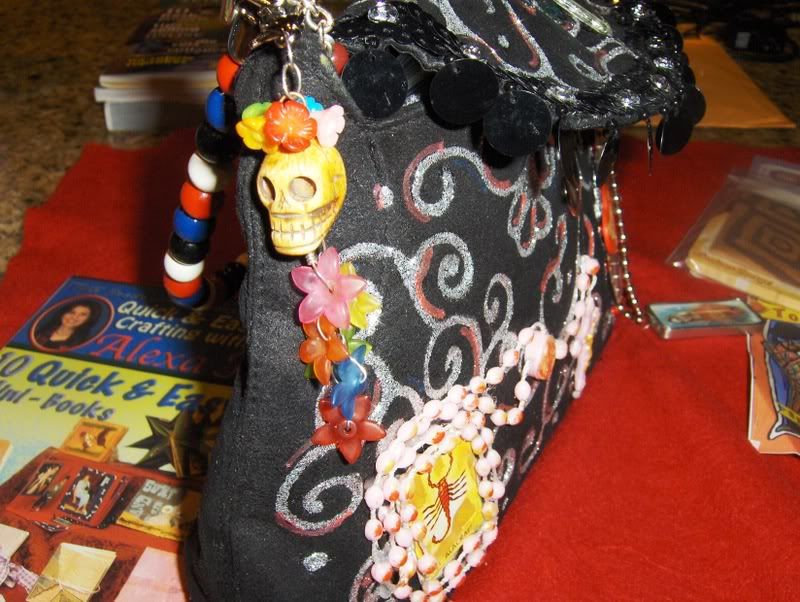 For more info on previous posts about the artists and how the bag started,
click here, how it started
Clicklist of artists involved.