Hello everyone, once again, thanks for stopping by and taking the time to read my posts. I truly appreciate it. For those of you who have been with me for quite some time, know that I have a addiction to Swap-bot.com. Yes, yes, I have even been known to lure unsuspecting crafty and artsy souls over there, to share my addiction.

I just posted a new swap, but I wanted to extend the invitation to all you you as well. You don't have to sign up at swap-bot, if you don't want too, you can just post your results here or on your own blog. All I ask is that you share your results with me and or send me the link to your blog so that I can pimp it out.

The name of my Swap is "Guerilla style Random Act of Kindness" and below is the info. I posted on Swap-Bot.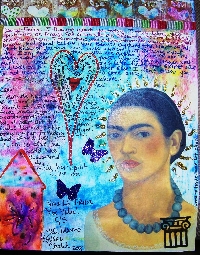 Put this image on your site!
Swap Coordinator:
sacredsnatch (contact)
Swap categories:
Art Challenges Letters & Writing
Number of people in swap:
1
Last day to signup/drop:
October 3, 2008
Date items must be sent by:
November 4, 2008
Number of swap partners:
3
Description:



Ok people, it's time to make someone feel special. I don't know about you, but when I make someone feel good, I also feel good in return. It's a win, win situation. Making someone feel special does not require money, so in this challenge, I don't want you to buy a thing. Use what you have or what is inside your beautiful mind.

This swap is inspired by the book, "Guerilla Art Kit" an awesome and inspiring read.

The premise of this swap is that you will make 3 pieces of art. Your call, it may be one of the following:

A Doodle, A Journal entry, An uplifting quote, A random lette,r An ATC, A sticker, A poem, A mini shrine, A "Dotee Doll", A stuffie, A piece of jewelry, A mixed CD, A card or postcard with a nice note, A Photo.

Anything, I am just giving some suggestions, but really, if anything, just write out an inspiring message or even a "Have A beautiful Day" message on a piece of paper.

I want you to make at least 3, but you can make as many as you want. Then I want you to leave your "art" in a random place, for a random stranger to find. I then want you to take a picture of your note or art at the place you left it.

Sounds like fun? I certainly hope so! I can't wait to get started myself!

Here is the link to the actual Swap-bot Challenge

http://www.swap-bot.com/swap/show/21259


Saludos,

Yoli