I know I am major tardy with my vacation pics, but darn it if I didn't leave my camera charger on board the ship! My camera was DEAD and I wanted to take a few more pics of our purchases in Mexico.

I had to order a new one via ebay, and since it was coming straight from Hong Kong, it took a minute to get here. (It came today)

So on with my story.........................

Like I mentioned before, the trip was off the hook! Kathy had loads of projects for us as well as a couple of guest "Artist" projects that we had the option of partaking in. We were ninja crafters! lol, one night I was the last girl standing! (I am not sure if I should be proud or shamed about this) but it happened!

Ok, ok, on with the peectures!

The 1st night of the cruise, we had a meet and greet. We were also asked to bring ATC cards for trade. I misunderstood and only made 4, but I think we were supposed to make 40! Thank Gah I brought swag bags. Here is a pic of the cards I made. I made Loteria fabric ATC cards.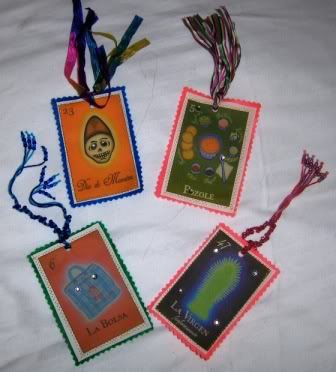 This was our first assignment. Tote bags, that, by the way, were loaded with loot!
See Krissi's blog for pics of all the goodness that was inside.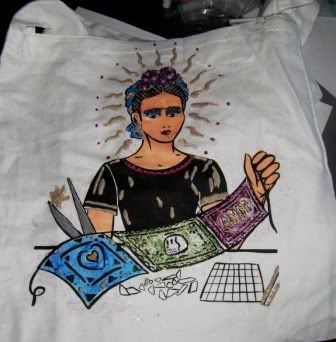 She had about 6 or 7 designs, of course I picked Frida.

Next project was painting statues. These statues/Santos will be included in her line of products. They were so much fun, and there were some really creative statues.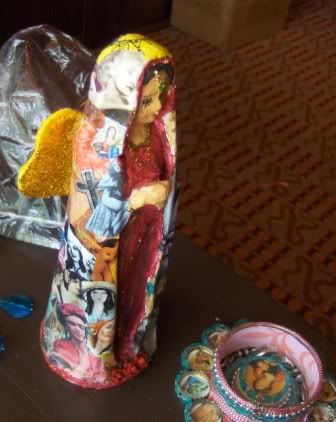 back.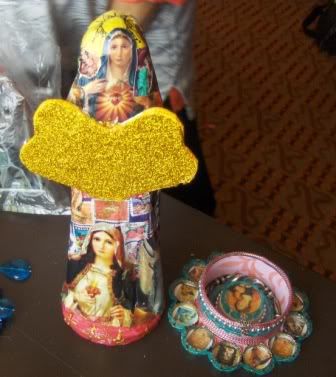 I decided to collage mine up. I still have a lot to learn with my painting skills.

True story: So, on the way home, I wrapped my Angel/Statue in a shirt and put her in my carry on. I didn't want to pack her in my luggage and chance her breaking in a zillion pieces. For real, you should have seen how they loaded and unloaded our luggage off the ship! (Escary)
Anyhoo, like I said, I decided to carry her with me. Why did they run my bag multiple times across the x-ray machine at the air-port? They flagged my bag, and security wanted to know what the heck was wrapped in my shirt. I told them it was an Angel. He took her and ran her through twice! For a second, I thought perhaps the statue was made of cocaine the way they were treating me! lmao. I was like, hmmmmmmm, what kind of operation is Kathy running. LOL, I keed, I keed! But really, they thought my statue was some kind of weapon of mass destruction. hmmmmmmmmmmmmph.

Next project was an Altered Journal. Kathy gave us the wooden Journals and more swag. We were told to have at it with decorating the outside. Obviously, I did not hold back.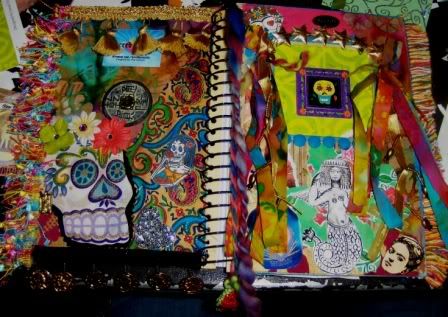 The last project was a blank wooden Shrine. I am still working on it, because I chose the hardest one. (I think) and it had lots of small cubby holes and I am still trying to fill them. For now, I painted, trimmed and added some glitter as a backround.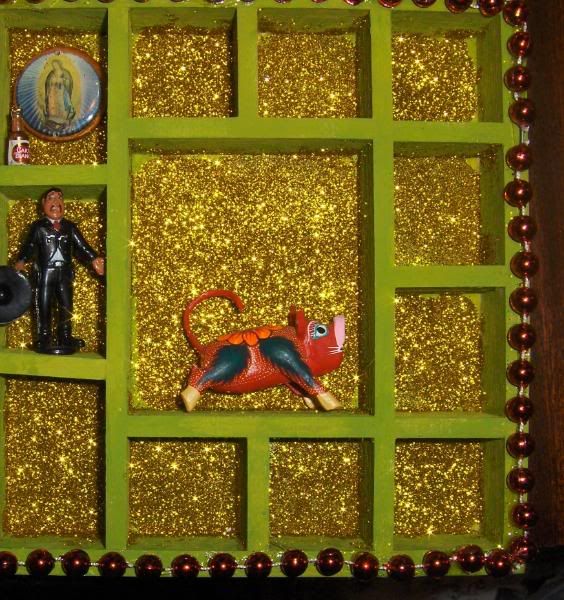 Cindy offered us an awesome class on Madonna Shrines. Can you believe these are made with tuna cans, recycled CDs and bottlecaps? Awesome!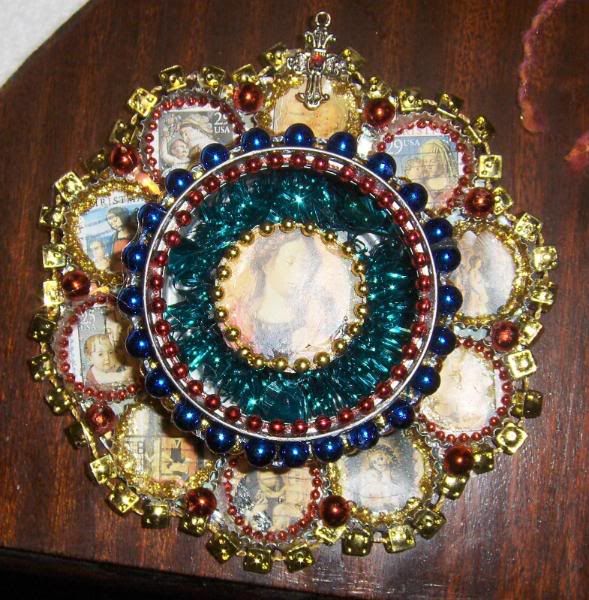 Corky (another guest) gave us a class on making a Altered Tag Book. I still have a lot to finish, so I didn't take a pic of it yet.

All this creative fun plus SHOPPING! Hellooooooooooooooooooooooooooo!

I purchased this at Casa Ramirez in Ensenada.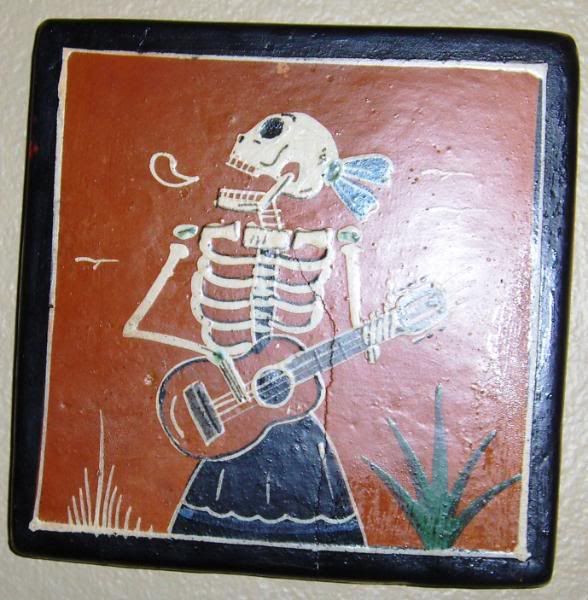 Pics of Casa Ramirez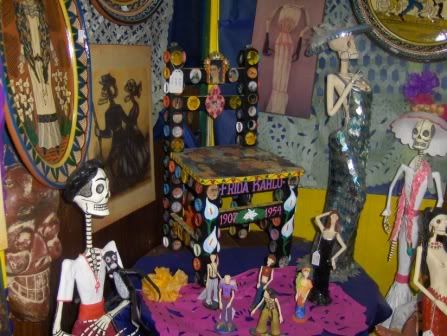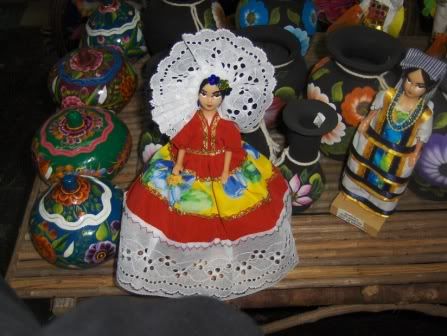 I saw this, and I had to have it.

Look, it's a small thin metal box.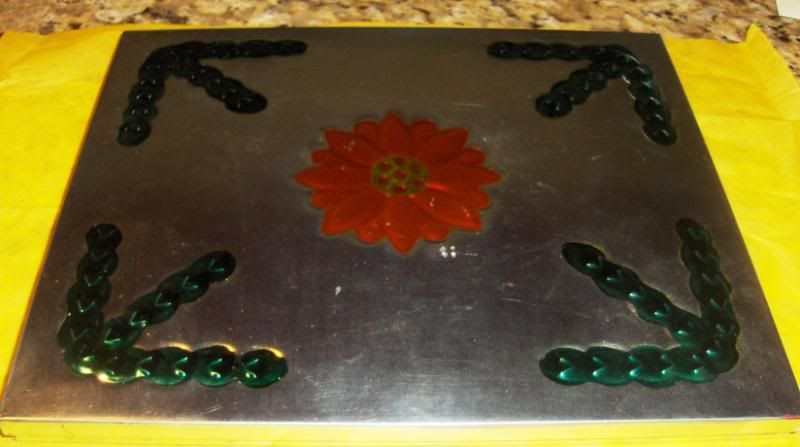 Ok, open it up and looky here!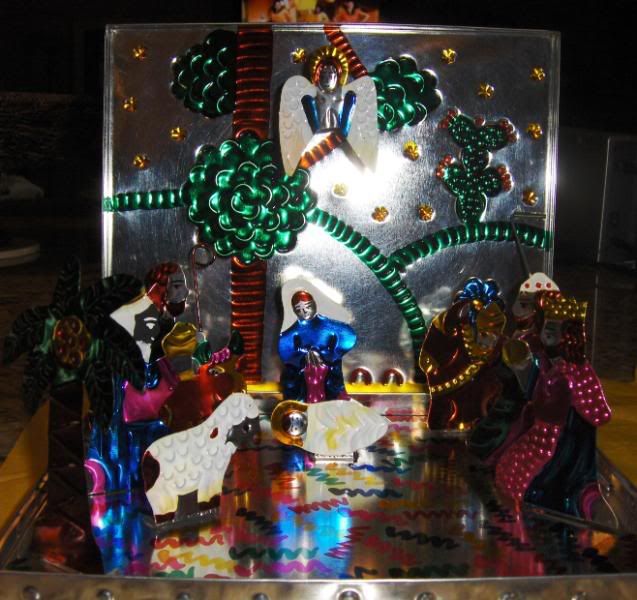 How awesome is that? It's an instant 3d pop up Nativity Set! Awesome!

Another favorite find is this beautiful hand embroidered handbag. I loved all the colors and I think I am going to embellish it. lol, as if it needs any, but I think it is screaming for some milagros.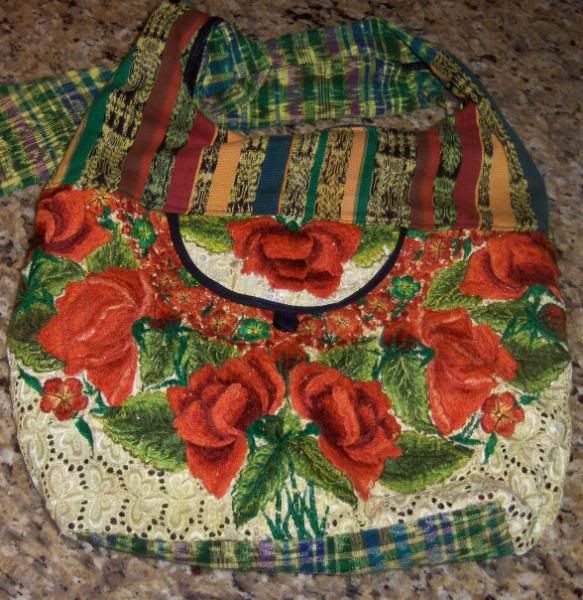 I also purchased a beautiful white blouse with lots of bright flowers embroidered on it, and a couple of trinkets for embellishments.

Did I mention how much fun this trip was? lol. Guess what, she is going to do it again next year, so start saving those centavos!